On The Road Again
By Sarah Odendahl
Ever since Sweetest Day in Lockport, (thanks again Janet!), we have been eagerly awaiting the next big event...Valentines Day with David Jones! Now I haven't been lucky enough to participate in a road trip with the PFG road crew, but there is a small group that has met over the years and we have done some traveling together. I'll let you in on a little secret... we (okay me) are directionally challenged. But we don't let that stop us from getting to see David Jones. Our first trip together was to Michigan during the blackout in August of 2003. We faced deadlocked traffic, a car fire, periods of intense rain and a one-hour time change we forgot about. All was well though as we arrived in time and wound up standing at David's feet literally during the show.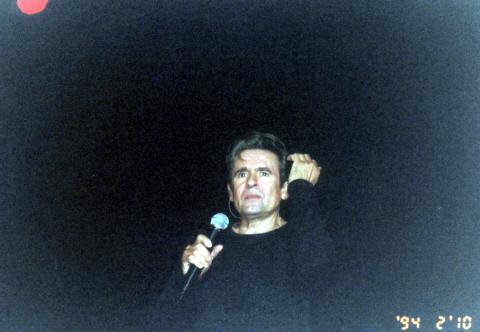 Feeling bolstered by the end result of our first trip we armed ourselves with map quest and an atlas and set out on the road again. Destination... Tiffin, OH. at the Ritz Theatre. In high spirits the five of us left early from a suburb outside of Chicago, IL. positive we had left enough time to reach our hotel by 3 p.m. and plenty of time to get ready for an 8 p.m. show. We would have made it too if we hadn't taken that detour into Michigan! (Too much chit chat but what do you expect from five women!) We finally rolled into the hotel at 5 p.m. and managed to get all of us ready in time for the show. David mentioned the long, flat drive from Toledo where they drove in from. I wish! Feeling all positive we set out for the theatre less than five miles away promptly getting lost and sliding into our seats with five minutes to spare. (Whew!)

The Ritz Theatre was beautiful! The ceilings had gorgeous art on them and dazzling chandeliers. Soon the lights were dimmed and the band started introducing themselves. Finally Mr. Jones himself was on the stage. Wearing a pink shirt in honor of Valentines Day he looked pumped for the night. He and the band ALWAYS put on a great show, but from the moment they came on the stage you could just feel the energy from them. David turned to the band and mentioned they were supposed to do the new intro they decided on the 2004. Sandy said he had a new intro and started playing Elvis' intro. David treated us to his impersonation of Elvis causing hearts to palpitate all over the venue! After some more chat they launched into "A Little Bit Me, A Little Bit You", "Valerie" and "Look Out Here Comes Tomorrow". The audience was clapping and singing along.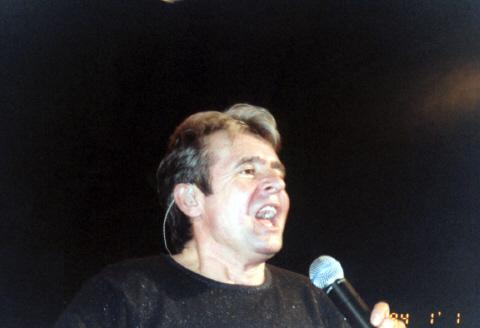 "Bill Smart" was there again and got his request for "Wasted Days, Wasted Nights". I know that I can never tire of hearing "Daydream Believer", but I also enjoy immensely hearing him perform other songs including both those he wrote and those he hasn't. Through David's non-Monkees related songs I know my daughter, and I am sure others have been exposed to music that they might not have otherwise experienced. "Wasted Days, Wasted Nights" was followed by "Girl", "Is You Is" and "She Hangs Out". When we arrived at the part of the show where he sings from "Oliver" he doffed a top hat and performed a medley. I wish I could sing and dance at the same time that well! Soon we slowed slightly with "I Wanna Be Free" and "Love You Forever" which always brings tears to my eyes. Then he told the audience that the widow of Tommy Boyce was in the audience after coming to visit him and he would sing a song for her. He and the band launched into a song that I would LOVE to see remain an item on the play list! "New York City" was a lively song that perked up (not that we needed it) the audience and the band seemed to have fun with. Continuing the light-hearted mood, David pulled out a goody bag that he had received. One item it contained was a purple monkey. When it was turned on it made monkey sounds and then kissing noises earning hearty laughter all around!


"Bright Side of the Road" had a little update with some extra vocals provided by Aviva at the end of the song. I found her voice very pleasant. This was followed by "Nice to Be With You", "Papa Gene Blues" and "(I'm Not Your) Stepping Stone". Too soon we heard the familiar opening notes of "Daydream Believer". At David's invitation we all sang along with gusto that made up for our lack of tempo! David left the stage and came back to sing "No Time", then left again. Teasing us he comes back once more to end with "I'm a Believer" in which I nearly suffered a head injury while my daughter bugalooed along with David! (Do I get a medal if I am injured in the line of duty?)


There was some new shtick as well as our favorites such as Dave Alexander doing his impression of Meatloaf and as Edith and Archie with Sandy. The brass section had some new choreography that elicited laughter even during such moments as "Love You Forever". (Yes I am guilty.) Dave Alexander and Aviva had times where we heard more from them vocally. Sam had two saxophone solos that brought him to the front of the stage for a better view. Overall the show stayed with the core we know and love, but added some variety that made the show a little different for those of us who have seen it before. It is like a well loved blanket or piece of clothing that you wash. It is still the same but with a fresh scent!


While I didn't get a chance to use the signal "Oooh Oooh" for an encounter with the Major Babe I was well satisfied with the night and "Jonesin" for my next time! It seems to me that we all come back to the same theme that I can't hear enough, even though I can't seem to put it in the right words in person all the time. Through David's performances our lives are enriched not only by the sharing of his music and time, but by the people we meet at these events. I have people that I met through David's shows that I have known for years and those shorter. (It was great to meet you in Lockport Cindy and Shane!) He has given me the memories of singing "Daydream Believer" with my daughter that I can hold onto when she is a teenager and I can't understand a word of the music she is listening to. Most of all for that David I thank you from the bottom of my heart and soul.

To wrap it up, we got home uneventfully (without getting lost once) and were able to have lunch with Janet to share all the details. On the next trip we are playing it safe and flying, but we will drive again. See you in Disney guys!